Kitchen Design Top Tips
When it comes to designing a kitchen, you need to put function first. There is no ideal kitchen shape – it can be laid out as a galley, L-shape or U-shape, but some layouts are more practical than others. So where do you start when it comes to redesigning the space that is a heart of every home?
The Triangle Kitchen
Your fridge, cooker and sink need to form a triangle, with no more than 6 feet between each. This allows you to prepare food quickly, without constantly travelling from one end of the kitchen to another.
Think of the sequence of your movements: what do you do when you start cooking? You want the food preparing and chopping area to be close to the cooker and have the sink nearby to take water, wash vegetables or put the dirty cutlery in.
Planning a place for your fridge you should also take into account what you do when you come back from food shopping. Do you want in close to the door, so you can put everything in it straight away, or would it be better to have or at the other end of the kitchen?
If you have a big, open plan kitchen with an island, think carefully about the position of the sink. They look great when placed in the middle of an island, but only when they're clean of dirty dishes.
Kitchen islands create more storage space and additional seating. They are significant features, so they need to be kept tidy.
Lots of Storage
Always plan for more storage than you think you need. Use every nook and cranny: think of corner cabinets, tall pull-out shelves, built-in extractors with space above them. Consider building your cabinets all the way to the ceiling, instead of leaving an empty gap that's never used and gathers dust.
Make it easily accessible: deep drawers are great for plates and pots and good dividers in shallower drawers will organise all the minor kitchen clutter and tools. You should plan for enough cabinet space for things that are rarely used but take up lots of counter space, such as juicers, electric steamers, kitchen robots or bread makers.
Cupboards built all the way to the ceiling use all available space.
Don't forget about the practical side of your planned look of the space. If you like Provençal style kitchens with utensils and pans hanging from the ceiling but never had one before, think of how often you'll need to clean them to keep the place tidy. Open shelves or dressers also look stylish but similarly need regular dusting – something that lovers of minimalist, all-hidden-away kitchens don't have to worry about.
In a minimalist style kitchen everything is hidden away, creating the feeling of space, calm and order.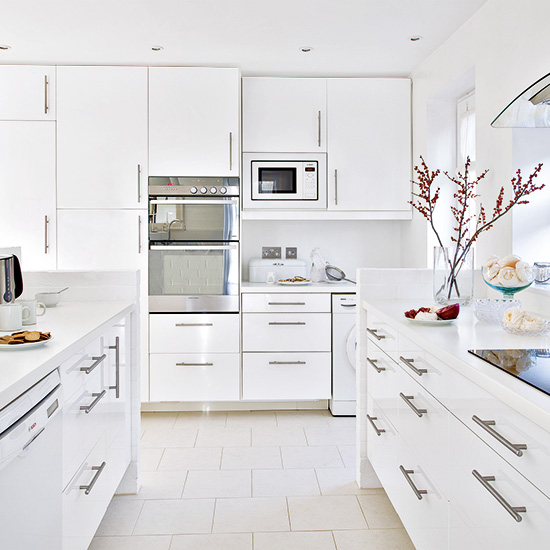 More light
Single overhead lighting is not sufficient in kitchens. You want your working space well lit, without shadows on your chopping board. For this you can consider a bigger overhead light with spotlights directed to workspaces, several overhead lights or the best solution – under-cabinets lights.
Under-cabinets lights focus directly on the workspace.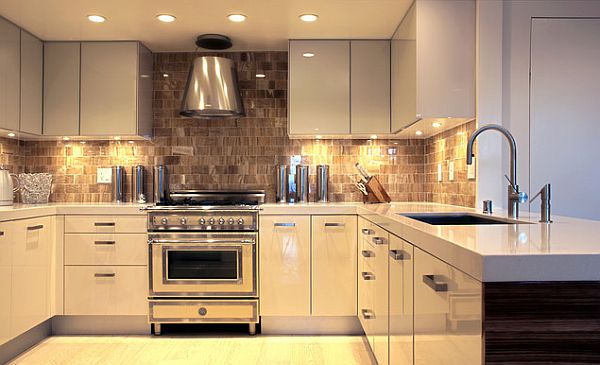 You've Got the Power
Or do you? Before you buy your dream appliances, make sure you have the appropriate power sources in place. Remember that electric cookers and ovens need specialist sockets. Don't forget to meticulously measure your appliances before. This is not only so they would fit into allocated spaces – cramming them in may impact on how they work.
Give Me Space
Apparently, there is no such thing as too much counter top space. The truth is that you will clutter it up over time, at least a bit.
While choosing the right material for your kitchen tops don't think only about the look but ask yourself if it's easy to care for and durable. Remember that tiled tops accumulate dirt in the grouting, wooden tops need sanding, oiling and burn easily (no piping hot casseroles on this one!), and steel tops get scratched and quickly lose their sheen. Stone, such as marble, is naturally porous so it needs impregnating before it's fully stain – proof.  Your kitchen designer should also warn you that heavy granite tops may need reinforced cabinets in order to withhold their weight.
Wooden kitchen tops give the room a warm feel but they need occasional sanding and treating with oil. They are also easy to scratch or burn with hot pots.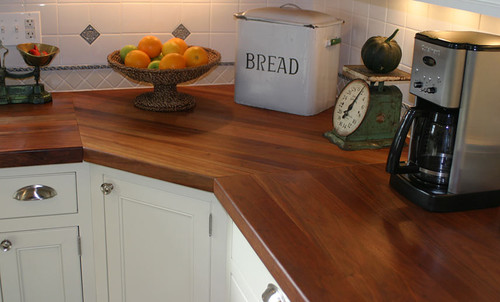 Fresh Air
Kitchen extractor is a must, unless you like your sofa smelling with last week's dinner. Choose one that looks good, is economical and not too noisy. Ideally, aim for one that can be vented outside.
An extractor can be a statement feature of your kitchen. Just make sure it's as functional as it's pretty.
The Floor Is Yours
When it comes to flooring, the choice of styles and materials is bewildering. You can choose from stone, tiles, slate, rubber, resin, exotic wood, laminate panels… – your budget will be the only restraint. Style and price aside, choose a floor that is non-slip, waterproof and easy to maintain.
Fashionable resin floors are extremely durable, easy to clean and maintain but take a long time to lay down.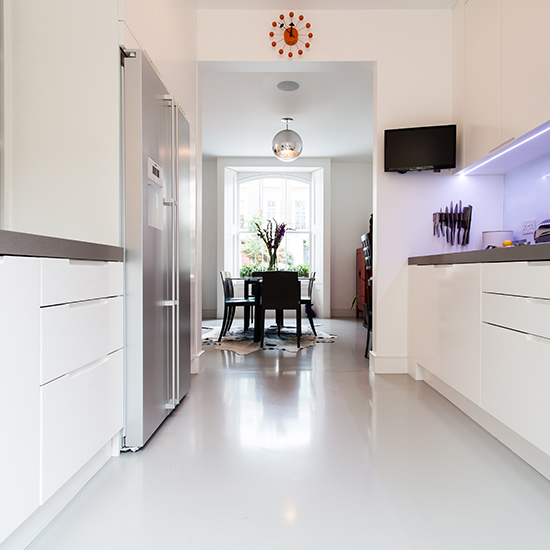 Stay Safe
This is especially important if you have a young family. Try to plan for a kitchen from which you can see your back garden on a playroom, while cooking. Consider rounded kitchen tops, built-in ovens placed higher than small hands can reach and again – slip resistant floors.
If you have small children, consider rounded tops in your kitchen, to avoid painful bumps. A built-in oven should be placed at a height of an adult.
Go For New
Don't try to economise on reusing your old appliances in a brand new kitchen – they will look like poor relatives. You can always cut corners somewhere else – go for a less well-known brand, cheaper tops or cabinet handles.
Bin It
Plan for a sufficient space for recycling bins. They can be completely hidden away in a pull-out cabinet or placed in a special container. Your designer or architect will help you, presenting possible options.